Our Journey
Hi! We're Dawn and Tim Wells.
In February of 2020, Tim decided to rebuild his comic book collection after a 20-year hiatus. Tim planned to buy comic collections, keeping what he needed for his personal collection and reselling the extra comics to pay for the hobby. He named his new business Pixels 'n Pages.
Less than a month later, Tim underwent what was supposed to be a routine medical procedure. To say things didn't go as planned would be an understatement. During the procedure, Tim's esophagus was punctured and the mistake went uncaught. Two days after being discharged from the hospital, Tim was admitted to the emergency room with sepsis and only 10% lung capacity.
Tim was sedated and airlifted to a larger hospital where the doctors warned Dawn there was a good chance Tim wouldn't make it. She was told to prepare our children for the worst.
Tim underwent two surgeries to repair the damage and infection. After a week in the ICU, Tim was allowed to come out of sedation. Two weeks later, he was discharged with the understanding that there would be one more surgery in the near future.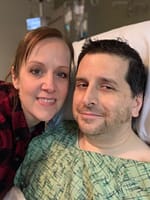 After a month of misery, Tim had the final surgery on his birthday. Tim credits his family, The Great British Baking Show, and Animal Crossing: New Horizons with keeping him sane during this period.
Tim's medical trauma left him unable to work due to his new cognitive and physical disabilities, as well as PTSD that contributes to constant night terrors.
As part of Tim's healing process, we started going to estate sales to get him out of the house and spend time together. After our first estate sale, Tim hoped to contribute to the family by reselling the treasures we found. However, we quickly discovered that Tim wasn't able to take on the demands of a business like this.
In 2023, Dawn rebranded Pixels 'n Pages to Geek Chic and began selling the inventory we had accumulated over the years of estate sales and comic book purchases. She started by selling online before expanding to a booth in an Altoona, Wisconsin antique mall, followed by a booth in Eau Claire, and another in Chippewa Falls. She was also selected to the final round of applicants to the new Altoona container park before deciding it wasn't the best fit for our family.
Determined to not have a single moment of downtime, Dawn launched Geek Chic Customs. This allows her to exercise her creativity by handcrafting her own unique items, as well as upcycling vintage clothing into new creations.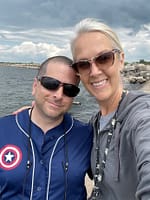 Most recently, Dawn opened her own brick-and-mortar shop at Banbury Place in Eau Claire, Wisconsin. Tim helps out where he is able, primarily by advising Dawn on the pop culture side of Geek Chic.
We prioritize sustainability, valuing the history and stories behind the items we find. Nothing makes us happier than finding these treasures new homes and preventing them from ending up in landfills.
We appreciate you taking the time to learn more about us. If you find yourself in the Eau Claire area, please drop by the shop and say hello!